Corrosion is such a prevalent issue in marine applications. Ethanol fuel has not helped. In 2012, Practical Sailor tested three several gasoline additives, looking for the best to combat corrosion and fuel quality related issues pertaining to ethanol gasoline. In the article, they point out that corrosion issues are attributed to ethanol. This is especially true with aluminum. Marine tanks and engine components are commonly manufactured out of aluminum.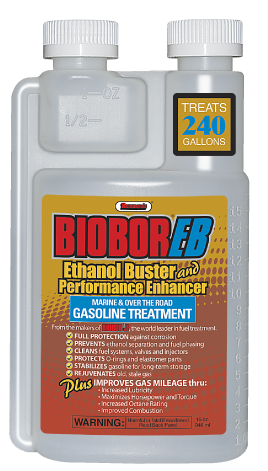 In the test, Practical Sailor took composite samples from several outboard engines prior to any aftermarket additives and found that the aluminum had been seriously damaged. Further investigation linked the oxidizing effect to ethanol. Eight fuel additives claiming to fight corrosion were tested. Out of the 8, Hammonds Biobor EB came out on top as the Best Choice. In the article, they offer best practices to combat fuel problems. Below is their list plus 1 we add.
9 ways to combat fuel problems
Use fresh fuel – purchase your fuel from a premium marina or retail outlet
Eliminate water – check your fuel tank and vents for fuel leaks
Keep fuel tank full – E-10 absorbs water and a full tank will decrease condensation
Use your engine – burn the fuel in your tank and use your engine to keep fuel fresh
Use fuel/water separators – quality filters and separators are a must
Beware of bad alloys – avoid zinc and zamak as they corrode rapidly
Use only ethanol rated hoses
Use a Biobor EB in your gasoline
For detailed testing information check out the original article. As a follow-up to the long-term effect of Biobor EB, the following excerpt four years later attests:
"After years of enduring ethanol fuel-induced nightmares, we decided it was time to get to the root of the problem and took a look at gasoline additives, fuel-system practices, and fuel-vent filters.
Our initial gas additives corrosion testing (Practical Sailor, November 2012) convinced us to switch to the PS Best Choice Biobor EB. Last fall, after four years of using the Biobor, we opened the carburetors in two test outboards and found zero corrosion. The tests that followed that initial report supported our additive choice.
The big takeaway from all of our fuel additive testing was that better fuel management practices meant healthier fuel and less troublesome outboards." (Practical Sailor, Long-term Test Gear Update, Feb 18, 2016)
Follow Biobor
Share the Post